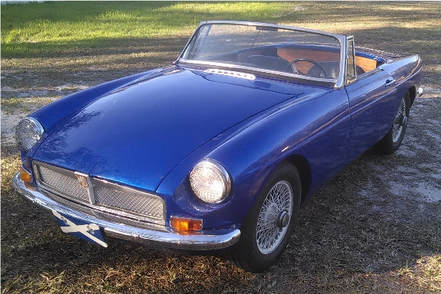 This 1969 MG B was purchased early 2015. The photograph was taken the day I towed this MG-B from Hastings, Florida. Below I will upload pictures on the progress. This car seems mostly original. Paint scheme will change during this project.

Engine = 1800cc 4 cylinder with twin one barrel carburetors
Transmission = 4 speed manual



---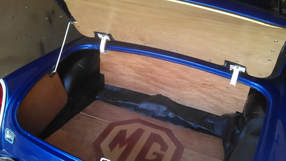 After cleaning the entire car of insect dirt, I removed the old vinyl and carpet interior. It has been replaced with 1/4" Birch plywood covered with a clear polyurethane. The truck floor will also be laid with wood. The battery is inside of the blue bin with tire removing equipment. Notice the curved lip of the trunk has a wood panel instead of carpet.


---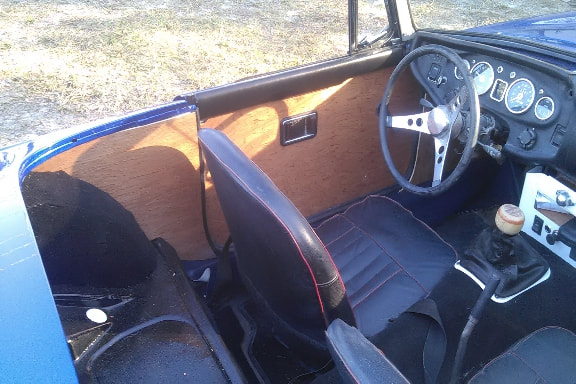 1. Birch wood for trunk lid. Cost = $25
2. Birch wood for truck rear wall and floor. Cost = $16
3. Polyurethane and brushes. Cost = $20
4. Battery tub and blue plastic paint. Cost = $30
5. Epoxy paint (white and black). Cost = $20
6. Sandpaper, stain, tape, and hardware. Cost = $65
TOTAL Cost = $176.00 not including labor.
The original spoke wire wheels have been reconditioned.
1. The tires and tubes were removed. Cost = $25 for removal and disposal.
2. The wheels were sand blasted. Cost = $120 for 5 wheels and drums.
3. The wheels were cleaned with Ospho and heated. Cost = $20 with sprayer.
4. Five wheels were painted with white Epoxy coat. Cost = $40.
5. Two Drums were painted using engine paint. Cost = $10.
6. Purchased 5 tubes and vinyl tape for 14" tires. Cost = $30.
7. Purchase 5 new tires and installed on wheels. Cost = $350.
8. Installed wheels.
TOTAL Cost = $595 or $119 per wheel (labor not included)


---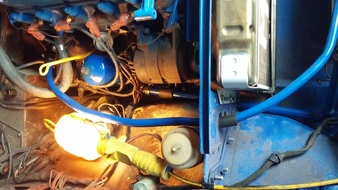 Oil system upgrade
1. Removed oil filter assembly and oil cooler.
2. Cleaned oil housing and cooler.
3. Replace low oil pressure hose with 1/2" conduit with special bends and reenforced expoxy.
4. New hose champs and hoses.
5. Replace High oil pressure hose with 1/2" steel pipe connected to 90 degree elbow that changes to 3/8" steel pipe. (Oil cooler has 3/8 connection).

---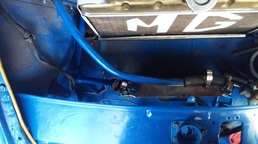 6. Hand sanded dipstick and oil filter housing.
7. Painted dipstick, pipes and oil filter.
8. Special "MG" painted on oil filter bolt head.
9. Installed new oil filter and assembly.
TOTAL Cost = $110 not including labor.
---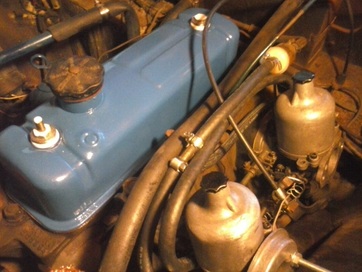 Changes to Valves and Valve cover and carburetors
1. Removed and cleaned valve cover
2. Adjusted valve train using feeler .0015
3. Removed gasket and debris.
4. Painted valve cover with leftover paint.
5. Painted valve cover washers and bolts.
6. Re-installed valve cover with new seal. Cost = $5
7. Removed carburetors and heat shield.
8. Degreased engine block and heat shield. Cost $5
9. Hand Sanded heat shield and plastic spacers (2).
10. Painted plastic spacers with leftover plastic paint.
11. Painted heat sink with leftover engine paint.
12. Replaced vacuum hoses. Cost = $ 10
TOTAL Cost = $20 not including labor & tools.

---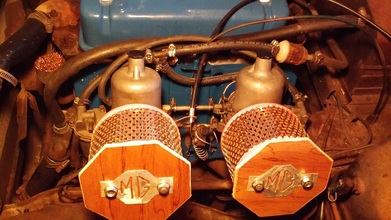 Carburetors Changes
1. Cleaned using carburetor cleaner. Cost = $25
2. Changed all hoses with fuel type. Cost = $30
3. Installed new fuel filter. Cost = $10
4. Oiled and reassembled carburetors. Cost = $5
5. Cleaned or replaced springs. Cost = $3
6. Created 4 gaskets for spacers. Cost = $10
7. Installed carburetors and 2 gaskets.
8. Changed original bolts with threads. Cost = $5
9. Created 2 wood filter caps using 1/4" birch.
10. Created 2 "MG" aluminum gasket.
11. Installed filters and nut terminals. Cost = $30
TOTAL Cost = $118 not including labor


---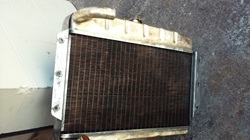 Cooling System
The thermostat was removed or stuck open. When the engine is running, you can see the flow produced by the water pump. I have polished the brass radiator and cleaned the brass drain petcock. I have flushed the cooling system several times using plain tap water due to the amount of brown rust.
Installed new thermostat sensor = $10


---
Seats and rear battery boxes
1. Purchased used seats(2) from MG collector. Cost = $100
***the driver seat frame was rusted and broken but vinyl is good.
2. Dissembled original seat frames and used seats.
3. Sanded frames, tracks, and sliders. Cost = $20
4. Primed and painted frames, tracks, and sliders. Cost = $12
5. Cleaned, sanded and painted vinyl clips.
6. Assembled seats (2) with best frame parts.
7. Installed Seats and rubber mats under sliders.
8. Removed battery box cover and restored it.
9. Painted battery box cover and installed hinges. Cost = $30

TOTAL Cost = $162 (labor not included)


---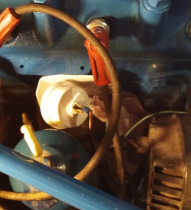 Oil Pressure
Oil Pressure issue = gauge is not working.

1. Tested oil pump by checking oil flow to valves; Pull off oil filler cap and shined a flash light down inside of the valve cover while engine is running. A flow of oil should be viewed with rockers and valves functioning.
2. Removed oil sending unit from the side of motor. There is 2 bolts securing a special metal bracket to hold oil sending unit. The bracket has a hose connected to the engine block that can be separated with a 9/16 wrench.
3. Cleaned bracket and bolts with degrease agent.
4. Painted bracket with primer and oil resistant paint.
5. Cleaned the internal oil sending unit with silicone oil for over 5 minutes until oil ran clear.
6. Painted oil sending unit like bracket.
7. Cleaned and painted oil dip stick with yellow paint.
8. Painted engine block (since block exposed).
9. Re-assembled hose to bracket then unit to bracket.
10. Bolted assembly to engine block.
11. Tested = success with 50lbs @ 1800 RPM
Price: Paint and cleaners = $15



---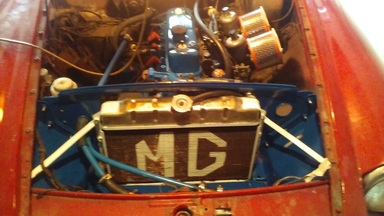 Cooling system changes
1. Removed Radiator for chemical flush.
2. Removed fan and pulley
3. Removed Radiator support
4. Removed thermostat housing
5. Removed Thermostat
6. Cleaned and painted everything
7. Replaced fan belt.
8. Replaced bolts
Price without labor= $40.00


---
Bonnet changes underneath and engine changes.
After removing radiator and oil cooler, I cleaned and sanded area before the radiator. The radiator support and the oil cooler area was painted a deep blue color that will be similar to the (future) royal blue exterior. The engine and components are painted brilliant blue to contrast body paint. I cleaned original windshield washer bottle and painted support brilliant blue. Polished radiator brass and painted radiator steel and radiator support brackets a white color. Cooling Fan and oil dip stick was painted caution yellow. Replaced some hose champs and shortened a few hoses. The radiator was flushes several times with pressurized water. Most bolts, washers, and nuts were replaced.
Parts without labor = $ 60.00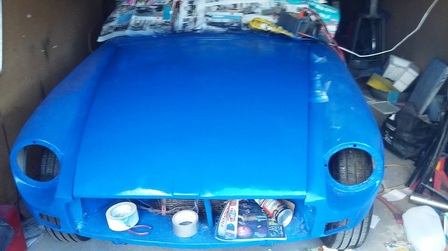 Aluminum Bonnet & Front Valence
After some considerable hard work, I have finished the body work on the bonnet (hood). A small amount of epoxy filler was used to fill in dent and imperfections. I used a huge round steel file to shape down the epoxy and a file flat steel file to clean teeth marks. Three coats of primer and two coats of acrylic enamel are shown.

---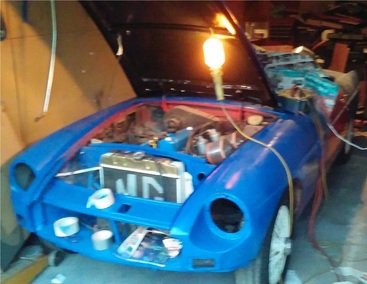 Aluminum Bonnet and front upgrade
Cleaned and painted under the bonnet.
Re-aligned the Bonnet to the body.
Removed cheap body filler from hood.
Removed filler from front and fenders.
Replaced with steel and high strength epoxy filler.
Preparing exterior for Urethane body fill primer.
Painted with 2 part epoxy paint.

---
Shock absorber "Armstrong" (3 units)
1. Removed 3 Armstrong factory shocks (2 front & 1 rear).
2. Cleaned exterior of shocks using silicone oil.
3. Removed rear plates and screws.
4. Cleaned old gaskets using razor and scrapping tool.
5. Removed and cleaned valves and internal springs using silicone oil.
6. Cleaned inside of shocks using 4 cans of silicone oil.
7. Created 3 new plate gaskets using 3mm cork material.
8. Re-installed valves and springs.
9. Filled shocks with 20W synthetic oil (3 liters).
10. Re-installed rear plates and screws.
11. Cleaned and painted inter-fender well.
12. Reassembled with new fulcrum pins, nuts, and bushings.

---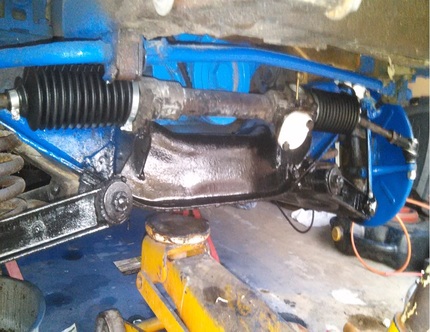 Steering Rack Rebuild
1. Loosened Tie Rod locking nuts.
2. Removed Tie Rods (2).
3. Cleaned Rack area.
4. Ordered Rack boots & Tie Rods.
5. Removed Rack steering cover.
6. Removed Rack tension cover.
7. Cleaned inside of rack with silicone oil.
8. Painted Rack covers (white).
9. Painted rack cross member (black).
10. Installed new Rack Boots.
11. Installed new Tie Rods (2).
12. Created gasket for Rack steering cover.
13. Re-installed Rack steering cover.
14. Rack steering cover.
15. Oiled Rack using 90W synthetic.
16. Re-installed Rack tension cover.
17. Alignment of tires to Rack.
---
Removal of Body rot and completion of heavy body work
1. Cut out rust and excessive body filler from driver & passenger sides.
2. Patched rust using 16 gauge sheet metal.
3. Sealed holes and grinder mars using high strength epoxy (12 hr cure time).
4. Finished heavy body work using Feather-rite for scratches less than 4mm.
***Light body work will be sprayed on using Slick Sand primer filler.
***(This will fill imperfections less than 2mm then 3 coats of 2 part epoxy).

Under the Bonnet
1. Removed wire harness, fuse box and clamps.
2. Cleaned wire harness, fuse box and clamps.
3. Removed brake cover, blower, coil clamp, etc.
4. Cleaned brake cover, blower, coil clamp, etc.
5. Painted brake cover, blower, coil clamp, etc.
6. Cleaned and painted heater core box.
7. Cleaned and painted inner fender wells.
8. Installed wire harness, fuse box and camps.
9. Installed brake cover, blower, coil clamp, etc.
10. Switched Phillips screws with brass screws.
***Routed water to bypass heat core until later.